If you're struggling with relentless neck or back pain, it might be a good time to enlist the help of an orthopedic spine surgeon. Orthopedic spine surgeons specialize in both surgical and non-surgical procedures for treating spinal disorders—but not all surgeons are created equal, and finding the right one can be difficult.
To aid you in your search, we've compiled a list of what to look for, questions to ask, and tips for how to find the best orthopedic surgeon for you.
What to Look for in an Orthopedic Spine Surgeon
When you're on the hunt for an orthopedic spine surgeon, here are some key considerations to keep an eye out for:
Formal Training and Education
Orthopedic surgeons are required to complete several years of formal training and education. When evaluating orthopedic surgeons, find out where they attended medical school and completed their residency program, if they completed a fellowship in spine surgery, and if they are board-certified. Doing so will help you be sure that your surgeon of choice has comprehensive training in spinal conditions and is nationally recognized for their expertise in the field.
Specialized Experience
Although orthopedic care is a specialty area of medicine, it encompasses a wide range of conditions. Whether you're suffering from degenerative joint disease or a bad case of runner's knee, you'll want to see an orthopedic spine surgeon. However, it is important to look for a surgeon with a strong background in treating your particular condition to ensure you're in the best hands possible.
Many of today's top orthopedic spine surgeons also utilize integrative care, taking a multidisciplinary approach by collaborating with other healthcare practitioners to tailor a treatment plan for you.
Minimally Invasive Techniques
When surgery is the best treatment option, look for an orthopedic spine surgeon who utilizes minimally invasive techniques and technologies like our team at DISC Sports & Spine Center. Minimally invasive spine surgery relies on smaller incisions, ultimately leading to shorter hospital stays and quicker recoveries.
Choosing an Orthopedic Spine Surgeon: Questions to Ask
You're bound to have questions for the orthopedic spine surgeons you consult with about potential treatments. However, with so much on your mind, it can be challenging to make sure you ask the right ones. Here are some important questions to ask when choosing an orthopedic spine surgeon:
How many procedures like this do you perform each year?
What kind of training and experience do you have treating my condition?
What is your rate of successful patient outcomes?
Do you use minimally invasive techniques and technologies?
What treatment option do you recommend for me, and why?
How to Find the Best Orthopedic Spine Surgeon for You
Testimonials and referrals from previous patients present good opportunities to get in touch with an excellent surgeon in your area. If you're looking for a spine specialist, ask your primary care physician as well as your family, friends, and acquaintances for recommendations. After all, patient satisfaction is truly the mark of a great surgeon!
Along with referrals, there are several online resources to help you find quality care in your area. For example, the American Academy of Orthopedic Surgeons, Vitals, and HealthGrades offer orthopedic spine surgeon locator tools. (And if you're in or around Newport Beach, California, you've already found us!)
Choosing an orthopedic spine surgeon can be a daunting process, but it doesn't have to be if you know what qualifications to look for and what questions to ask. These tips and tricks will serve as a good starting point, but the best way to find the right surgeon is to schedule a consultation with a spine specialist in your area.
During your consultation, you can better determine if an orthopedic spine surgeon is a good fit for you—so you can move forward with treatment and get back to living an active, pain-free life.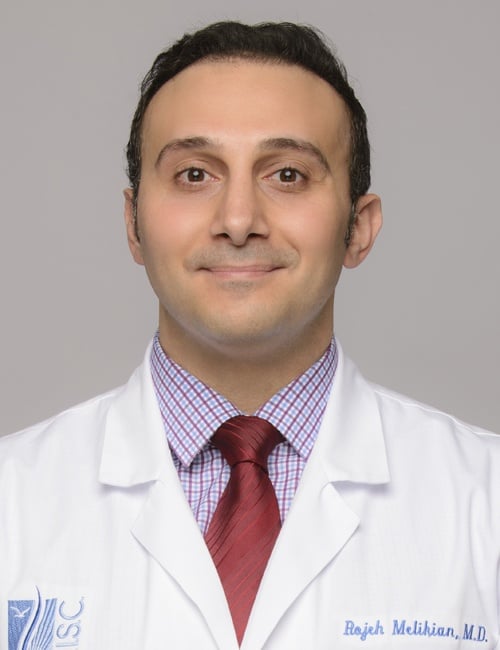 About the author
Rojeh Melikian, M.D. Dr. Rojeh Melikian is a Harvard and Emory University-trained orthopaedic spine surgeon. He was subsequently accepted into the prestigious Harvard Combined Orthopaedic Surgery Residency Program, where he excelled and was appointed as Chief Resident at the Massachusetts General Hospital. He received extensive training in complex spinal surgery, scoliosis, as well as primary and metastatic spine tumors. Upon graduation, Dr. Melikian was awarded the prestigious Harvard Orthopaedic Surgery Thesis Day Award for best clinical presentation for his work on spinal infections. Dr. Melikian has authored numerous presentations, posters and journal articles on spine surgery. Read more articles by Rojeh Melikian, M.D..