Dr. Grant Shifflett's patients know they are in expert hands when they are under his care. As an orthopedic spine surgeon specializing in minimally invasive and microscopic surgery, Dr. Shifflett has been a tremendous addition to the team at DISC Sports & Spine Center.
But what is there to know about Dr. Shifflett outside of the operating room? Here are some of the interesting tidbits he shared with us.
What is your favorite hobby or activity?
Dr. Shifflett: Golf—I love playing any and every chance I get! My current handicap is a 4.4. I've had the good fortune of playing a lot of incredible golf courses, but I have to say my favorite course I have played is Congressional Country Club in Washington, D.C. That answer may be biased by the fact that I happened to play really well that day!
What is an interesting fact about you that no one else knows?
Dr. Shifflett: I have an insatiable and borderline toxic affinity for chocolate.
Why did you choose to go into medicine?
Dr. Shifflett: My grandfather was very sick when I was a young child, and I spent a lot of time in the hospital visiting him. I remember the doctor who came to see him every day, and I witnessed the effort he put into saving him and the emotional connection he made with my grandfather and my family. Regardless of the science or the craft, I knew I wanted to do something that would give me the opportunity to have a big effect on people's lives and to have a job where the gravity of what I did every day kept me motivated to keep working to get better and better.
What is your philosophy for treating patients?
Dr. Shifflett: I like to individualize my treatment and ultimately relay to each patient what I would do for them if they were a friend or family member. I believe if I follow those two principles, it's hard to not do the right thing.
What is the top health tip that you tell all your patients?
Dr. Shifflett: Whether you are religious or not, make your core your new (or additional!) religion! Learn a set of exercises, and stick to them everyday.
Dr. Shifflett arrived at DISC with an impressive background. He graduated with high honors in Neuroscience from the University of Virginia and finished medical school with highest distinction at the University of Southern California. After medical school, he spent his residency at the Hospital for Specialty Surgery in New York City, the top-ranked orthopedic hospital in the United States.
After completing a fellowship in Japan and a spine fellowship at Rush University in Chicago, Dr. Shifflett settled in southern California. Though his priority is spending time with his wife and two small children, he also tries to get out on the golf course when he can. He's even been able to combine his enjoyment of the sport with his professional career, publishing research on golfers' outcomes after spine surgery and taking on golfers as patients.
Dr. Shifflett never wants to see his patients forced to give up the things they love, golf or otherwise. He states, "I value my activities, and understand the value my patients place on theirs. I make every effort to make sure they are able to get back to doing everything they want to do."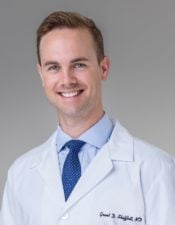 About the author
Grant D. Shifflett, MD Dr. Grant D. Shifflett is a fellowship-trained orthopedic spine surgeon. Handpicked by Dr. Robert S. Bray Jr. to join DISC Sports & Spine Center, Dr. Shifflett specializes in the application of minimally invasive and microsurgical techniques to the entire spectrum of cervical, thoracic and lumbar spinal conditions, from the simple to the most complex. Whether treating a patient with chronic pain or an acute injury, his ultimate goal is to restore function and quality of life with minimal tissue disruption. Read more articles by Grant D. Shifflett, MD.